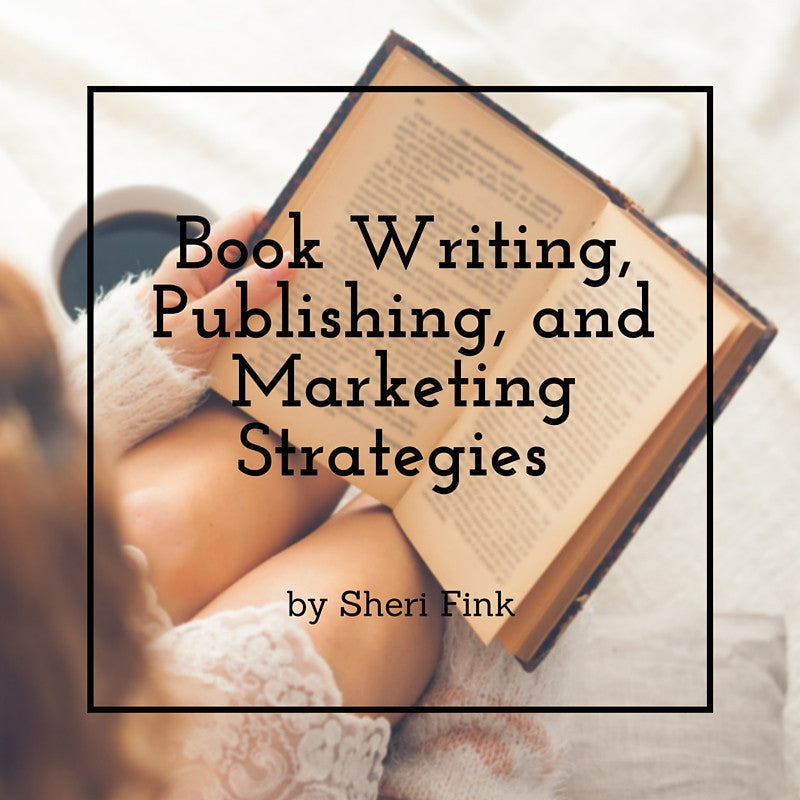 Book Writing, Publishing, & Marketing Strategies Online Course from Sheri Fink
Back by popular demand: my exclusive 90-minute online course answering questions about writing, publishing, and marketing books ... available for download. Just $197!
Have you ever dreamed about writing a book and being a successful author? This is an extraordinary opportunity to transform your writing career and your life. You are completely, 100% capable of achieving your dream. Having the right mentor can make your journey faster, easier, and much more enjoyable. 

During this downloadable 90-minute online course, I share how I became a #1 best-selling, award-winning author (with 5 #1 best-selling books!), an inspirational speaker, and the co-creator of the 'Whimsical World' brand that's helping people worldwide with their self-esteem … all in just five years!
Questions I answer include:
What do you do when you get stuck in your writing?

I keep hearing that I should be writing every day but I can't seem to make time or get into it when I do. What do you suggest?
As an independent author, do you stick to the traditional publishing guidelines for word count?
I'm a successful author in my genre, but I want to write something completely different. Should I use a pen name?
How did you find your illustrator?
What's the difference between traditional and independent publishing?
What's the process to publish your books independently?
What would you consider the ONE BEST free and the ONE BEST paid marketing strategies that are accessible to first time authors/novice marketers?
Typically, how many bookmarks do you print and do you have any recommendations on the best place to print them?
As an independent publisher, how do you sell books on Amazon?
Does it make a difference if my book is a best-seller or not?
How does the Amazon best-seller list work?
I want my book to win awards. How do you find out about them? Is there an official list?
My book hit the best-seller list and won an award. How do I keep the sales going over time? How can I sell more books and REALLY earn money using my book?
How do I get more media interviews?
What's your BEST ADVICE for aspiring authors?

I also share:

• Author mindset strategies for success
• Tips on writing, finishing, and editing your book
• What to consider when independently publishing your book
• Authentic marketing to help your book become a massive success
• Strategies for becoming a best-selling, award-winning author

Whether you're traditionally published, independently published, or hoping to one day be published, you don't want to miss this insightful, strategy-packed online course. Take action today to follow your passion and make your dream come true!

Testimonials
"Sheri has been a true inspiration to me, as a writer and businesswoman. I attended Sheri's Book Writing, Publishing, and Marketing Tele-class. Sheri's warmth, generosity, and genuineness was present throughout the entire tele-class, as was her professionalism. She willingly provided many ideas, tips and techniques that have helped me grow in confidence as I consider navigating the world of self-publishing myself. Sheri dreams big - encouraging the whole world to dream with her!" ~ Laurie Crookell, Canada
"I have learned so much from Sheri--from marketing techniques, to the ins and outs of independent printing, to great writing habits and time organization. Sheri emanates such joy when helping others reach their literary goals, as well as inspiring many people with her books!" ~ Danielle Soucy Mills, United States
"Sheri has been a big influence in my life as a writer, illustrator and entrepreneur. She is always available to give advice and is very knowledgable about entrepreneurship and the publishing industry. Sheri's mentorship has led me to start my own publishing company (EG Press (dot) com), as well as write and illustrate my own books. Sheri is someone that can be counted on and trusted. I recommend Sheri as a mentor to anyone who wishes to reach their dreams as a published author!" ~ Natalie Catania, Canada
"Sheri and I both own our own companies. She has been very successful as an author and when I was getting ready to publish my first book, I asked for her help. Sheri gave me an extremely valuable to-do list of things that would help me promote my book and make it successful. I know it would not have been anywhere near as successful without all the advice she gave me. I would definitely hire Sheri if I were a first time author. She is self-published and highly successful with several best-sellers under her belt. Take advice from those who have done it, and keep doing it consistently! Sheri loves to coach people to success and she's such an example of what is possible if you are willing to do the work!" ~ Donna Dawley, United States
"Dear Sheri, Thank you for providing such a clear and informative tele-class! I feel much more prepared for the publishing and marketing of my new book / the startup of my new business. You're a fantastic teacher." ~ Leeza Metrovich, Germany
"Having watched Sheri go from talking about the dream of writing a children's book to becoming an Amazon best-selling author, who is regularly interviewed and speaking about her book, I am confident she will be able to help other authors publish and publicize their books. On a recent call, Sheri was able to provide me with not only crystal- clear information on how to get my book Wildflower Meditations: A Gift for the Spirit listed on Amazon, but also to lay the groundwork for a future Amazon best-seller campaign." ~ Patty Hankins, United States
"Sheri is one amazing lady! When it comes to marketing her message and putting together a campaign to introduce a new book or idea, I have witnessed Sheri in action. She knows her stuff! Sheri has an impeccable way of working with people. She has an impeccable way of communicating with children. This is one lady I highly recommend when it comes to putting a book on the best seller's list...along with getting your message out. Amazing lady!" ~ Sheila Unique, Canada
"Sheri Fink truly helps aspiring authors achieve their dreams. A best-selling author herself (now, that's credibility!), she knows how to lead others to realize their full potential. Everyone who knows Sheri has benefitted from her passion to transform people's visions into reality. She's amazingly adept at creating effective strategies to solve problems and get things done—whether it's producing a best-selling book, building a better business, or living a better life. Do you harbor a dream that hasn't yet come true? Sheri can help you." ~ Jane Ransom, United States
"Sheri Fink is a #1 best-selling author and a great author mentor. She showed me ways to make more money in my business right now and recommended ways to expand my product offerings and serve more people. She gave me strategies to get my book done while achieving my other professional goals, and suggested ideas to launch the Truth and Change Institute faster than I thought possible. Sheri lives her values and beliefs, I was looking for someone with integrity and kindness yet who would be direct and sincere with sharing her business knowledge and wisdom to help me get set up with my own business." ~ Elouise Di Luce, United Kingdom
"Sheri Fink is a force of nature. Her talent, drive and creativity are a constant inspiration to those who know her. I love her sense of adventure! Sheri is on an important mission to help young people and she has a big, bold vision that she pursues with great passion and great courage. She is constantly expanding her comfort zone and her reach. Keep an eye on this woman. Sheri is a mogul-in-the-making!" ~ Cheryl Bonini Ellis, United States
"Sheri is an author and leader with great vision and heart. Her books are geared toward empowering children, helping them see the beauty within instead of buying in to 'media' beauty. She inspires them to gain self-confidence and inner strength - a fabulous gift to help them gain a much more positive future. As a writing group leader, Sheri brings that same vision, heart and drive to help new authors uncover their own gift. She is a great collaborator and exceptional business partner. I highly recommend working with Sheri and also invite everyone to share her books with the children in your life, so our world can heal and grow stronger." ~ Jana Beeman, United States