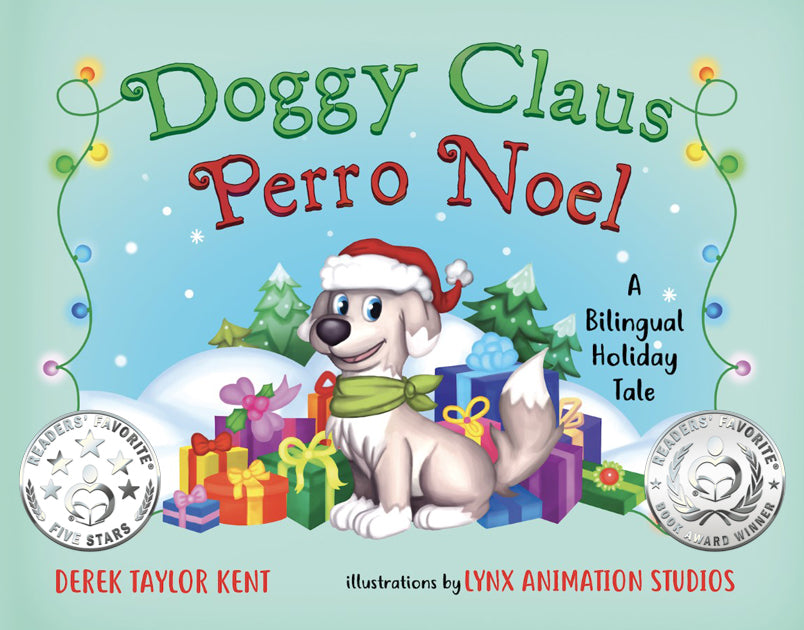 Doggy Claus / Perro Noel
SIGNED AND PERSONALIZED by #1 Best-Selling Author Derek Taylor Kent
The best-selling holiday tale is a new holiday classic! Gather around the tree and read aloud on Christmas to create memories filled with laughter and the true meaning of Christmas. 
A new bilingual (English/Spanish) holiday tale about Santa's dog named Jingle. When Jingle discovers that Santa only delivers presents to boys and girls and not dogs, he takes off on Santa's sleigh, intent to deliver presents to all the dogs, especially ones in shelters with no family. By the end, he learns that there's something dogs want even more than presents on Christmas. 
Reader's Favorite Silver Medal Award-Winner for BEST CHILDREN'S BOOK FOR GRADES K-3. 
Un nuevo cuento navideño bilingüe (inglés / español) sobre el perro de Santa llamado Jingle. Cuando Jingle descubre que Santa solo entrega regalos a niños y niñas y no a perros, se quita el trineo de Papá Noel, con la intención de entregar regalos a todos los perros, especialmente a los que están en refugios sin familia.
Al final, descubre que hay algo que los perros quieren incluso más que regalos en Navidad.